Language
JENGA drewniane klocki gra zręcznościowa
JENGA drewniane klocki gra zręcznościowa
| | |
| --- | --- |
| Shipping within | Right away |
| Shipping price | The Lack Of |
| | |
| --- | --- |
| The bar code | 5903864901214 |
| EAN | 5903864901214 |
Description

Ask a question
Niesamowitą gra zręcznościowa – JENGA w wersji wykonanej z drewna (1226).
To prawdziwe wyzwanie dla wszystkich miłośników gier zręcznościowych.
Prezentowana zabawka to propozycja dla nieco starszych pociech, sugerowany wiek przez
producenta to 8 lat.

Solidne wykonanie, dbałość o szczegóły przyciągają uwagę nawet najbardziej wymagających miłośników tej fantastycznej gry.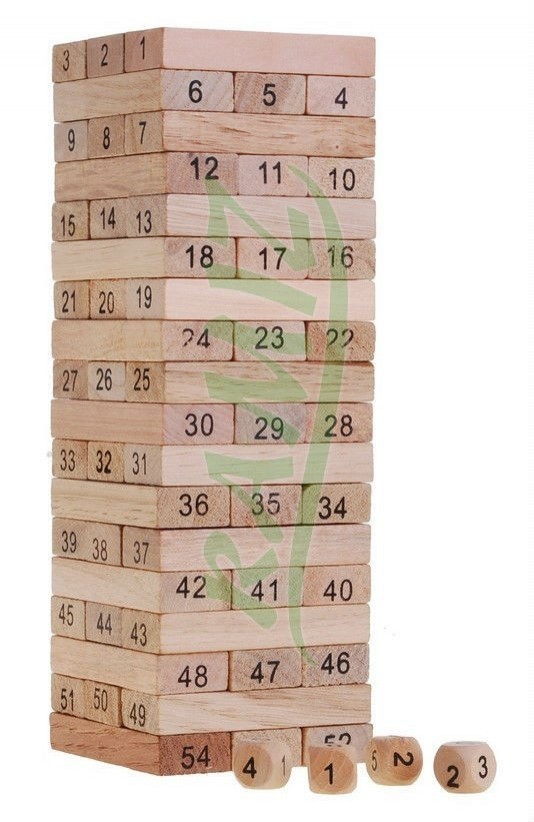 Jenga to prosta gra zręcznościowa, do której potrzebny jest odpowiedni zestaw klocków.
Mimo swojej prostoty potrafi dostarczyć fantastycznej zabawy przez wiele godzin.
W proponowanym przez nas zestawie znajdziemy drewniane klocki – 54 sztuki oraz 4 kostki do gry.
Z klocków jeden z graczy buduje wieżę, której każde piętro składa się z trzech klocków.
Do stworzenia stabilnej konstrukcji potrzebna jest twarda i równa powierzchnia.
Każde piętro budowli składa się z trzech klocków, które układa się pod odpowiednim kątem naprzemiennie w stosunku do poprzedniego poziomu.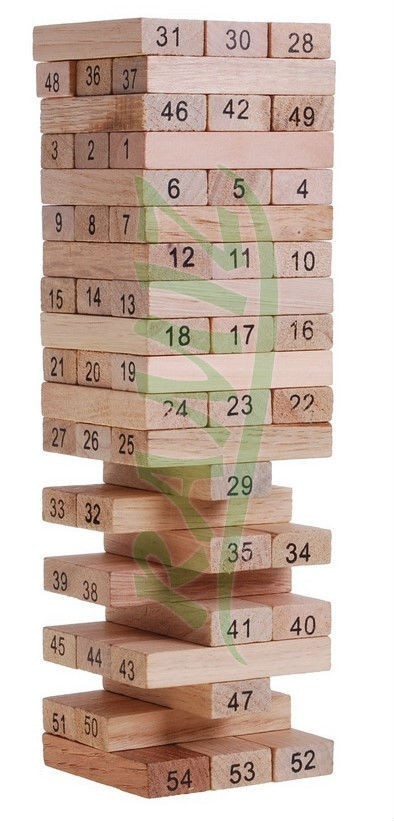 Zasady gry możemy ustalić sami, poniżej proponujemy kilka wariantów:
1. Wariant pierwszy: zadaniem graczy jest naprzemienne wyciąganie po jednym klocku z dowolnego piętra wieży, który umieszczają następnie na szczycie wieży. W tym wariancie, nie używamy kostek do gry.
2. Wariant drugi: rzucając 4 kostki sumujemy liczby i wyciągamy klocek z liczbą jaką wyrzuciliśmy za pomocą kostek. Właściwy klocek umieszczamy następnie na szczycie wieży.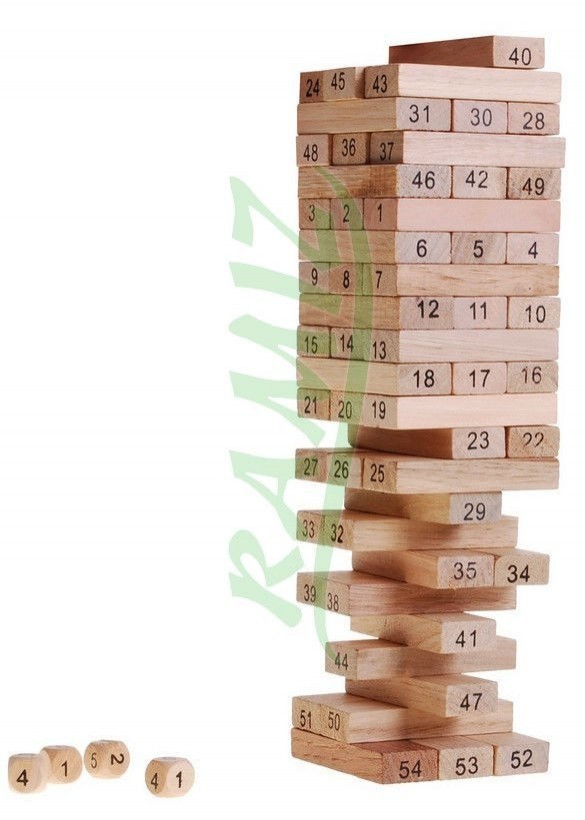 Przy każdej operacji należy uważać, by nie zniszczyć całej konstrukcji.
Pamiętajmy również, że  przy każdym wyjętym i przemieszczonym klocku zadanie staje się coraz trudniejsze, a gra coraz bardziej emocjonująca.
Wieża może jednak utrzymać równowagę nawet przy dwukrotnym zwiększeniu swojej wysokości.
W skład zestawu wchodzą:
- 54 drewniane klocki,
- 4 kostki do gry.
Ilość graczy: dowolna.
Wymiary przykładowego klocka do gry ok. 7 cm x 2,4 cm x 1,2 cm.
Wymiary pudełka ok. 26 cm x 8 cm x 8 cm.

Znakomita gra, która poprzez zabawę ćwiczy koncentrację, refleks, zręczność  i precyzję.
Pamiętajmy o tym, że nawet najprostrze gry potrafią w skuteczny sposób wpłynąć na rozwinięcie zdolności interpersonalnych u naszych pociech.
Ponadto, takie zabawy to wspólnie spędzony czas w gronie najbliższych.

Zapraszamy do wspaniałej zabawy !!!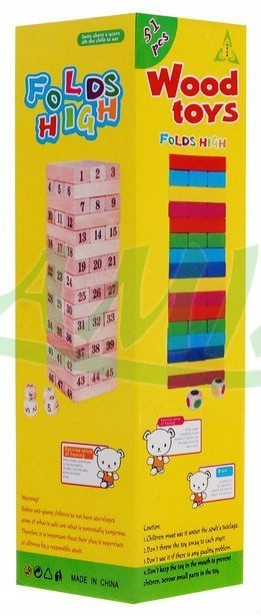 Na życzenie wystawiamy faktury VAT.
Zabawka jest przeznaczona dla dzieci powyżej 8 lat i posiada certyfikat CE.

Recently viewed products

Other Customers also purchased

Similar products